Blue Oval City
On September 27, 2021, Ford Motor Company announced plans to bring electric vehicles at scale to American customers with two new massive, environmentally and technologically advanced campuses in Tennessee and Kentucky that will produce the next generation of electric F-Series trucks and the batteries to power future electric Ford and Lincoln vehicles.
Ford plans to make the largest ever U.S. investment in electric vehicles at one time by any automotive manufacturer and, together with its partner, SK Innovation, plans to invest $11.4 billion and create nearly 11,000 new jobs at the Tennessee and Kentucky mega-sites, strengthening local communities and building on Ford's position as America's leading employer of hourly autoworkers.
BlueOval City Workforce Q&A-updated Jun 2022
An all-new $5.6 billion mega campus in Stanton, Tenn., called Blue Oval City, will create approximately 6,000 new jobs and reimagine how vehicles and batteries are manufactured. This site is 17 miles from Arlington, TN.
Blue Oval City will become a vertically integrated ecosystem for Ford to assemble an expanded lineup of electric F-Series vehicles and will include a BlueOvalSK battery plant, key suppliers and recycling. Ford's new Tennessee assembly plant is designed to be carbon neutral with zero waste to landfill once fully operational.
Blue Oval City will be among the largest auto manufacturing campuses in U.S. history. Like the iconic Rouge complex in Michigan did a century earlier, Blue Oval City will usher in a new era for American manufacturing.
The 3,600-acre campus covering nearly 6 square miles will encompass vehicle assembly, battery production and a supplier park in a vertically integrated system that delivers cost efficiency while minimizing the carbon footprint of the manufacturing process. The assembly plant will use always-on cloud-connected technologies to drive vast improvements in quality and productivity.
Despite its size, the assembly plant at Blue Oval City is designed to have as minimal an impact as possible on the surrounding environment – and even to generate positive impacts. The assembly plant's goal is to have a regenerative impact on the local environment through biomimicry in design of the facility. From the start of production in 2025, Ford's goal is for the assembly plant to be carbon neutral.
BLUE OVAL CITY IS 17 Miles from Arlington, TN at exit 42 on I-40 (Arlington is located at exit 25).
What does this mean for Arlington and for YOU and your business?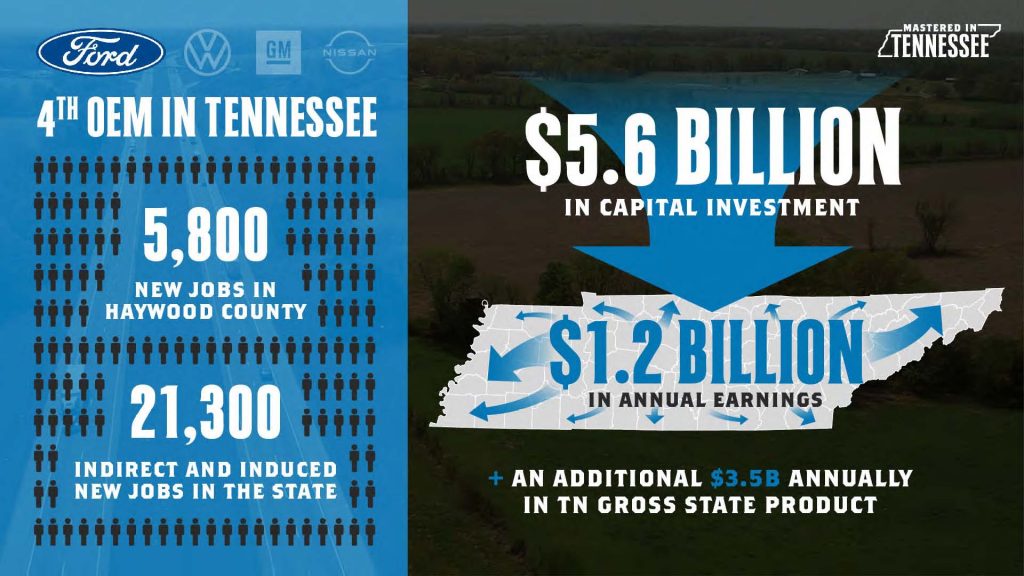 The Town of Arlington continually prepares for measured growth in our community. Arlington zoning and future land use maps lay out plans for our Town's future growth. During construction at Blue Oval City, Arlington businesses can expect increased demand for their services and products. Ford expects 33,000+ construction workers to be employed on site. When the facility is completed, 5,800 employees will work each day nearby Arlington. All communities in proximity to Blue Oval City expect residential, commercial, and infrastructure growth.
Besides this physical growth, our area will experience increased demands for skilled workers. If you are interested in working at Blue Oval City, stay informed here: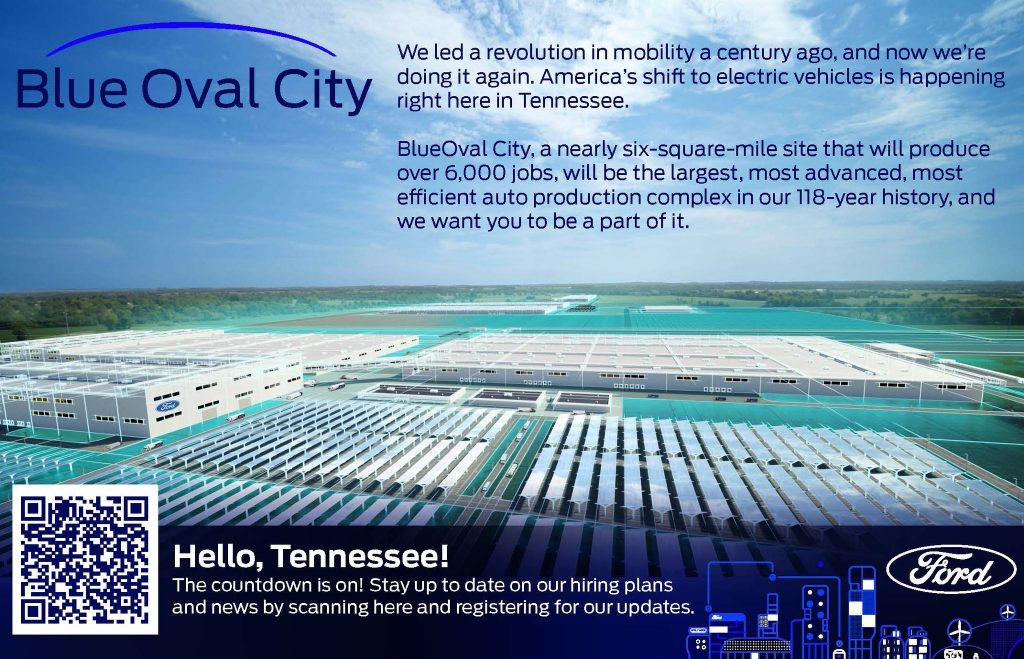 Contact the Arlington Chamber for resources for your business for workforce development and more. We want to assist you as you grow your business and take advantage of opportunities that Blue Oval City presents!