Important Notice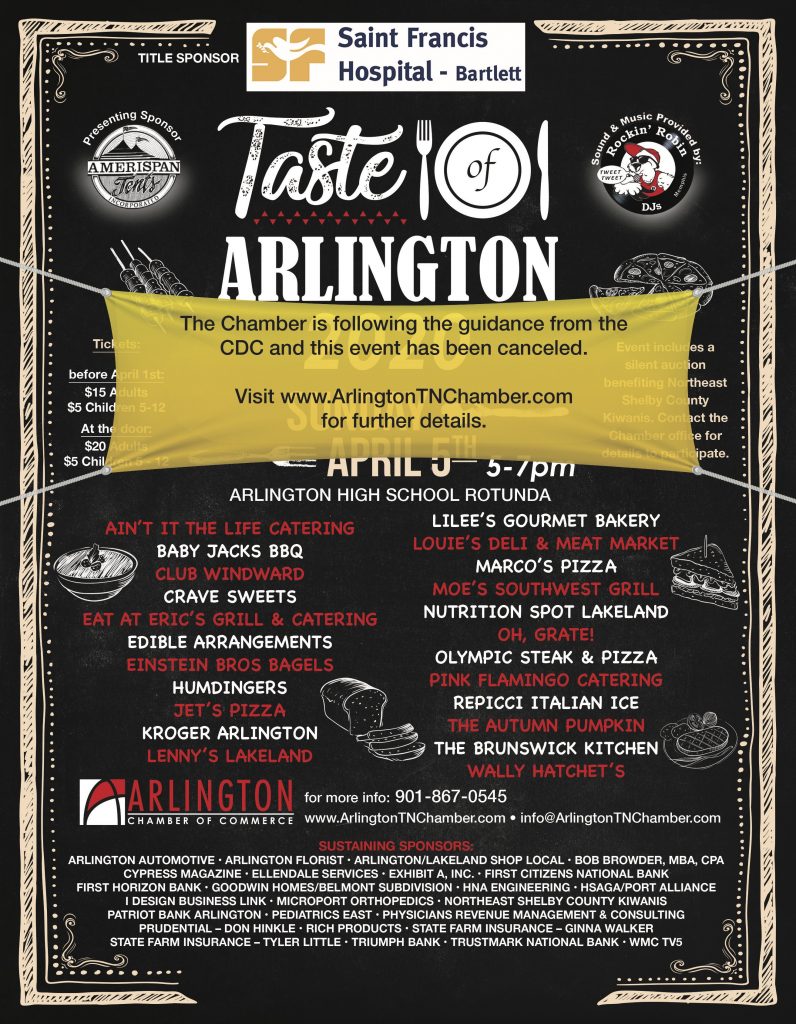 The Arlington Chamber will follow the CDC's March 15, 2020 guidance regarding cancelling events/gatherings of 50 people or more. Due to this guidance, A Taste of Arlington (April 5) is cancelled and the April 8 Chamber membership luncheon is cancelled, as well. We will be contacting sponsors and other participants in these events with further details.If you have already purchased tickets for Taste of Arlington (online or in person), please call the Chamber office at 901-867-0545.

If you have already paid for the April 8 luncheon, you will be contacted – please wait for our call.

If Chamber business members have information that needs to be posted to the general membership, let us know, and we will be glad to put your information in the Chamber newsletter.

Your Chamber wants everyone to follow the recommended guidance…wash your hands often…take care of yourself and those you love. As you have opportunity, help our business community in ways you can. And be ready to ramp back up when this virus passes…and it will pass.

Keep in mind everyone is dealing with extra stress under these unusual circumstances – we all need to support each other during these exceptional times.

CDC Guidance as of 3/15/2020

Large events and mass gatherings can contribute to the spread of COVID-19 in the United States via travelers who attend these events and introduce the virus to new communities. Examples of large events and mass gatherings include conferences, festivals, parades, concerts, sporting events, weddings, and other types of assemblies. These events can be planned not only by organizations and communities but also by individuals.

Therefore, CDC, in accordance with its guidance for large events and mass gatherings, recommends that for the next 8 weeks, organizers (whether groups or individuals) cancel or postpone in-person events that consist of 50 people or more throughout the United States.

Events of any size should only be continued if they can be carried out with adherence to guidelines for protecting vulnerable populations, hand hygiene, and social distancing. When feasible, organizers could modify events to be virtual.

This recommendation does not apply to the day to day operation of organizations such as schools, institutes of higher learning, or businesses. This recommendation is made in an attempt to reduce introduction of the virus into new communities and to slow the spread of infection in communities already affected by the virus. This recommendation is not intended to supersede the advice of local public health officials.